Thinking about retirement?
Check out a free life guide:
Life Guides are a form of checklist or questionnaire, designed to provide you with information and guidance on a variety of life events. Click on the one that you need and we'll send you a copy.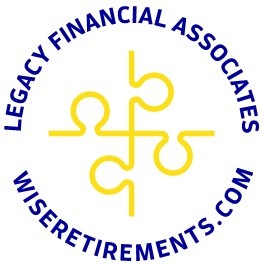 WISE Retirement Solutions®
    Wealth Management
     Income Planning
    Security / Protection
    Estate Planning
Visit us on Facebook:
https://www.facebook.com/legacyfinancialassociates
More than half of retirees surveyed had retirement planning regrets. Explore the three most common mistakes and how to avoid them.

Being named the executor of an estate can be an honor, but this overview shows why it can also be a difficult and time-consuming job.

Do you know your personal tolerance for market risk? Here are three key questions that may help you find out.

See the indicators economists rely on to understand the past, present, and potential future direction of the economy.
How much do you need to save each year to meet your long-term financial goals?

How Long Will It Take to Pay my Balance?

Use this calculator to estimate how much income and savings you may need in retirement.

How Long Will Your Funds Last?