Thinking about retirement?
Check out a free life guide:
Life Guides are a form of checklist or questionnaire, designed to provide you with information and guidance on a variety of life events. Click on the one that you need and we'll send you a copy.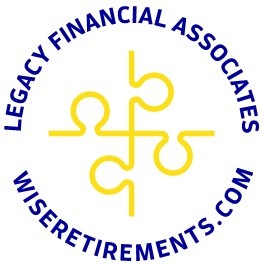 WISE Retirement Solutions®
    Wealth Management
     Income Planning
    Security / Protection
    Estate Planning
Visit us on Facebook:
https://www.facebook.com/legacyfinancialassociates
It's wise to review your portfolio regularly to make sure the asset allocation still reflects your chosen strategy.

The federal government is forging trade agreements and creating new programs that may help businesses become export-ready.

How reforms to the $2.6 trillion money fund market might affect institutional and individual investors.

Understanding the current jobs situation and how it may affect the economy in the coming months.
Estimate the future value of your current savings.

Use this calculator to estimate how much income and savings you may need in retirement.

How Long Will Your Funds Last?

How much life insurance would you need to produce a sufficient income stream for your family?