Thinking about retirement?
Check out a free life guide:
Life Guides are a form of checklist or questionnaire, designed to provide you with information and guidance on a variety of life events. Click on the one that you need and we'll send you a copy.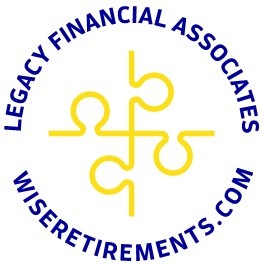 WISE Retirement Solutions®
    Wealth Management
     Income Planning
    Security / Protection
    Estate Planning
Visit us on Facebook:
https://www.facebook.com/legacyfinancialassociates
Do you know the differences between a 401(k) and an IRA? Find out how they might work together to boost your retirement assets.

This article discusses the components that determine your credit score and provides tips for maintaining a high score or raising a low one.

Explore current economic conditions and retail trends, including sharply higher prices and the potential for sporadic product delays and shortages.

This article looks at major life events and the need to review your life insurance coverage in light of changing circumstances.