Thinking about retirement?
Check out a free life guide:
Life Guides are a form of checklist or questionnaire, designed to provide you with information and guidance on a variety of life events. Click on the one that you need and we'll send you a copy.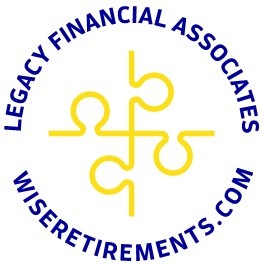 WISE Retirement Solutions®
    Wealth Management
     Income Planning
    Security / Protection
    Estate Planning
Visit us on Facebook:
https://www.facebook.com/legacyfinancialassociates
Being named the executor of an estate can be an honor, but this overview shows why it can also be a difficult and time-consuming job.

See potentially expensive services Original Medicare doesn't cover and how Medicare Advantage, Medigap or private insurance might help.

Tips to help balance the competing demands of saving for retirement and providing financial support to adult children and aging parents.

Learn about four financing options that might help small businesses expand, pursue new opportunities, or cover operating expenses.