Thinking about retirement?
Check out a free life guide:
Life Guides are a form of checklist or questionnaire, designed to provide you with information and guidance on a variety of life events. Click on the one that you need and we'll send you a copy.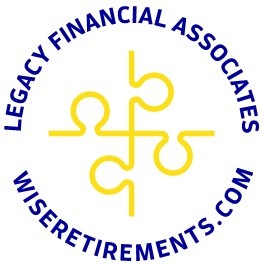 WISE Retirement Solutions®
    Wealth Management
     Income Planning
    Security / Protection
    Estate Planning
Visit us on Facebook:
https://www.facebook.com/legacyfinancialassociates
An inverted yield curve can be an economic indicator along with other factors that contribute to an uncertain outlook for future growth.

See potentially expensive services Original Medicare doesn't cover and how Medicare Advantage, Medigap or private insurance might help.

The financial ratios that help measure an organization's performance may also be used by potential lenders and investors. Learn more.

Find out how individual impact bonds may allow investors to preserve principal and generate income while supporting activities that are important to them.