Thinking about retirement?
Check out a free life guide:
Life Guides are a form of checklist or questionnaire, designed to provide you with information and guidance on a variety of life events. Click on the one that you need and we'll send you a copy.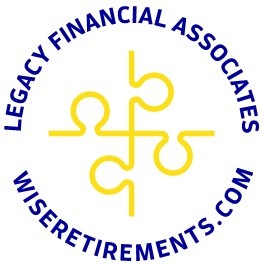 WISE Retirement Solutions®
    Wealth Management
     Income Planning
    Security / Protection
    Estate Planning
Visit us on Facebook:
https://www.facebook.com/legacyfinancialassociates
Learn about four financing options that might help small businesses expand, pursue new opportunities, or cover operating expenses.

As a small-business owner, do you know the types of coverages that may or may not be included in a standard business owner policy?

Tax changes in the 2017 Tax Cuts and Jobs Act affect some investors more than others, with implications that spill into the municipal bond market.

See potentially expensive services Original Medicare doesn't cover and how Medicare Advantage, Medigap or private insurance might help.
How much life insurance would you need to produce a sufficient income stream for your family?

How Long Will It Take to Pay my Balance?

How much do you need to save each year to meet your long-term financial goals?

Use this calculator to determine whether you qualify for the different types of IRAs.