Thinking about retirement?
Check out a free life guide:
Life Guides are a form of checklist or questionnaire, designed to provide you with information and guidance on a variety of life events. Click on the one that you need and we'll send you a copy.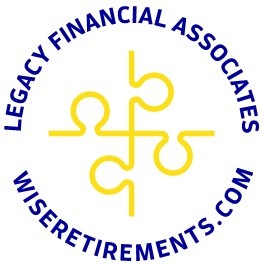 WISE Retirement Solutions®
    Wealth Management
     Income Planning
    Security / Protection
    Estate Planning
Visit us on Facebook:
https://www.facebook.com/legacyfinancialassociates
Roth IRA withdrawal and conversion rules and how they differ from other retirement plans.

Operate a business out of your residence? Consider an in-home business insurance policy as homeowners insurance coverage may not be sufficient.

When calculating RMDs for multiple accounts, it's important to understand which amounts can be combined and which accounts must distribute separate RMDs.

Settling an estate can be a difficult and time-consuming job as there are some specific duties that often fall on an executor.